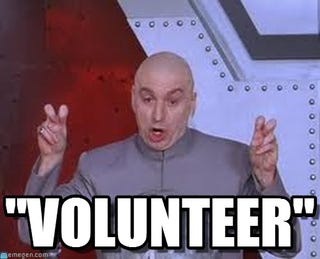 I received the following Member Alert this morning from the California Charter School's Association, that charter schools cannot require mandatory volunteer hours. I am really glad this clarification of law has been published, as I wrote in the past about why I thought requiring mandatory volunteerism of parents during work hours was wrong.  I'm also glad to see that the association was involved in helping to make this change happen, as I think this might help show detractors of charter schools that as a whole charters are working to do the right thing for students and parents:
The California Department of Education has released new guidance addressing parent service hour requirements in public schools. Fiscal Management Advisory 15-01 makes clear that public schools, including charter public schools, may not require parent volunteer hours or payment of a fee in lieu of performing volunteer hours as a condition of enrollment or participation in school programs.

This Advisory was issued as a result of engagement by Public Advocates and CCSA, following the release of a report by Public Advocates last November, which called into question the parent involvement policies of many charter schools across the state. While CCSA believes that many charter schools are complying with the law, CCSA has worked with Public Advocates and the CDE since the release of that report to issue guidance that will assist charter schools in developing charter petitions and other foundational documents that reflect the practices that should be universal across the charter school sector in California.